Mint

Condition is part of tVN's Drama Stage 2021, a series of 10 one-act dramas that airs every week. It is the first in the series to be aired, and will be broadcasted on 3 March 2021, 12.10AM KST

The drama will narrate the story of an old man who turned into a young man in his twenties due to a malfunction of an MRI machine, he begins to live in harmony with young hip-hopers and adjusts to his youthful life.


Directed by Jung Hyeong-Gum
Writen by Bang So-Min
Produced by Studio Dragon and CJ E&M
CAST



YERI as Chaeri/Cherry (채리), a nurse.
JI MINHYUK as Lee Moonsae, a Retro Hip-hop musician
AN WOOYEON, hip-hopper
JELLY, hip-hopper
LEE SUKHYEONG as Mi Chorong/IX, rapper
IM CHAEMOO
BAE WOOHEE as Lee Yeojin, runs a belly dance academy
KIM JUNGYOUNG as Sim Eunhyo
Info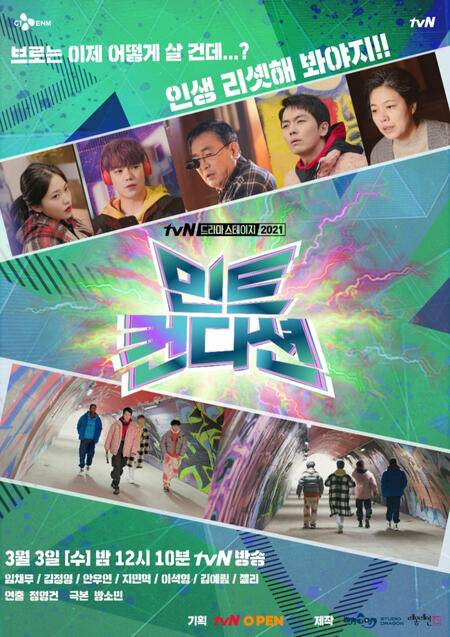 It's only one episode (like a movie), around 90 minutes long, so let's stream it legally when it's broadcasted in realtime on 3 March

TVING APP Tutorial
🔗DOWNLOAD LINKS🔗

• TVING 티빙
Please change your appstore/playstore region to South Korea
iOS Android APK

• openvpn

iOS Android
+ VPN profiles for South Korea
HIGHLIGHT (1 MIN)
More clips will be uploaded here (if any)
Fully subbed version of the drama will be linked here when done.